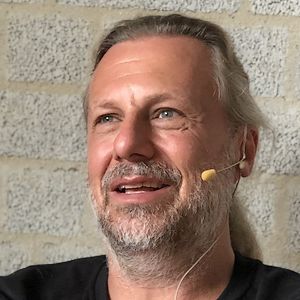 Christoph Heussen war in den Jahren rund um die Jahrtausendwende Linux-Trainer/Berater und hat auf höchstem technischen Niveau gearbeitet. Er gehörte seinerzeit zu den wenigen RHCX (Redhat Certified Examiner) und hat in dem damals noch jungen Linuxbereich, vorrangig im Kontext von Redhat Linux, viele IT'ler fortgebildet.
Nach der Jahrtausendwende hat er sich dann "back to the roots" an der Realschule als Seiteneinsteiger beworben, an der er heute noch arbeitet. Skurilerweise ist Christoph examinierter Lehrer, jedoch nicht für das Fach Informatik, das man zu jener Zeit, als er die Uni besuchte, noch nicht als Schulfach für die Sekundarstufe 1 studieren konnte. Und so gilt Christoph bis heute als Seiteneinsteiger und darf, wie er launig erzählt, bis heute keine Informatik-Referendare betreuen.
Christoph berichtet im dem Gespräch von der jahrelangen Aufbauarbeit, sowohl was die Lerninhalte als auch die technische Austattung der Schule selbst betrifft, bis hin zur Corona-Pandemie, die von jetzt auf gleich Fakten schuf und viele geplante Innovationen von jetzt auf gleich systemrelevant werden ließ.
Das Interview wurde am 27. Juli 2021 in Mönchengladbach aufgezeichnet.
Randnotizen
about_Christoph (Xing)
DLD: Deutsche Linux-Distribution (WP)
Das "ominöse" Systemhaus im Jahre 2000 (via archive.org)
RHCX, redhat.com (via archive.org)
SuSE (WP)
Flickschusterei: Linux-Distributionen korrigieren manche Schwachstellen in ihren Kerneln nicht (T. Leemhuis, heise.de)
PICMicro (WP)
Arduino (WP)
SPS: Siemens Simatic (WP)
Bundesministerium für Wirtschaft und Energie: Fachinformatiker/-in
Moodle (WP)
Kapitel
0:00.000 Into: Summer (Ikson)
1:14.338 Vorstellung Christoph Heussen
3:58.386 about_Christoph
6:17.332 Linux um die Jahrtausendwende,
17:11.180 Erste Jahre an der Schule,
24:56.430 Lehrinhalte,
32:29.936 Einplatinencomputer,
36:35.204 Lehrinhalte++
44:24.027 State of the union,
56:47.222 Abseits der Informatik,
1:08:43.923 Corona
1:19:38.431 Schulbuch++
1:30:56.657 Datenschutz
1:38:56.719 Digitale Souveränität
1:47:12.250 Digitale Kompetenz
1:51:25.096 Wider die Vorurteile,
1:58:17.545 The end
Musik